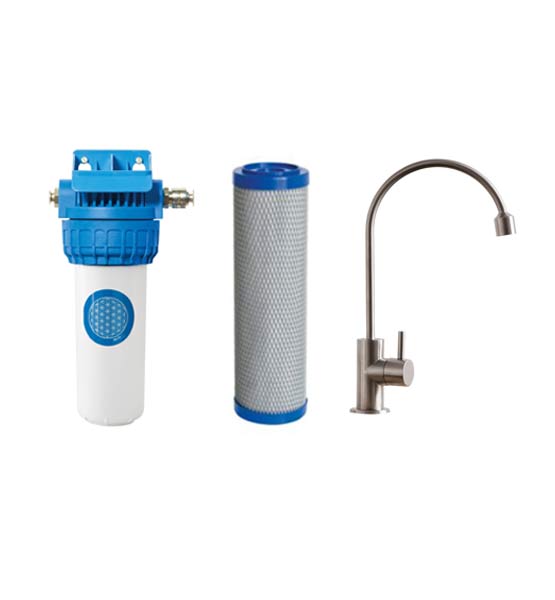 Complete Set Undersink Water Filter Tap Alba (WW-08)
SKU: WS-08
1 AQUA NEVO BASIC 2 under sink filter (built-in
filter)
1 ABF PRIMUS SD blue, Universal standard
filter Activated carbon block filter, mesh 0.45 µ
1 ALBA-1 water-tap one way system for 2 tap
solution, stainless steel
Product Description
Complete Set Undersink Water Filter Tap Alba (WW-08)
1 Undersink water filter AQUA NEVO Basic 2 under sink filter (built-in filter)
1 Cartridge ABF PRIMUS SD blue, Universal standard filter activated carbon block filter, mesh 0.45 µ
1 Tap Alba Water-tap one way system for 2 tap solution, Stainless steel, Incl. M22 mm screw thread for swirler
Under-sink filters and their hoses and all fittings are installed invisible under the sink or at a hidden place nearby the water the sink.
Our new designed water hoses and fittings break new grounds and raise our already existing high quality standard. As usual they are made of a high alloyed stainless steel. In addition the inlet hose is a new. It is specially reinforced and lined with a new material which makes it extremely flexible. There is also a new design of outlet hose for the filtered water. It is lined with components specially designed for the food and beverage industry by the well-known British company John Guest.
A clear separation between service water (utility water) and drinking water. When the old tap remains, a small second tap for the filtered water will be installed. It requires a second 12mm bore hole. That will be drilled in the work top or punched in the stainless steel sink. Maximum thickness of worktop: 55 mm. The feed into the filter begins with a T-piece in the supply line. The tap is made of absolute inert stainless steel. The taps have a female thread (M22) to allow a swirler if desired.